Tearaway Unfolded SHAREfactory theme is out today!
16/11/2015
Hello super champs and friends!
Video Editor Dan here. Our brand new shiny SHAREfactory™ theme is out today and we can't wait to see what videos and films our lovely community – hey, that's you! – start cutting together!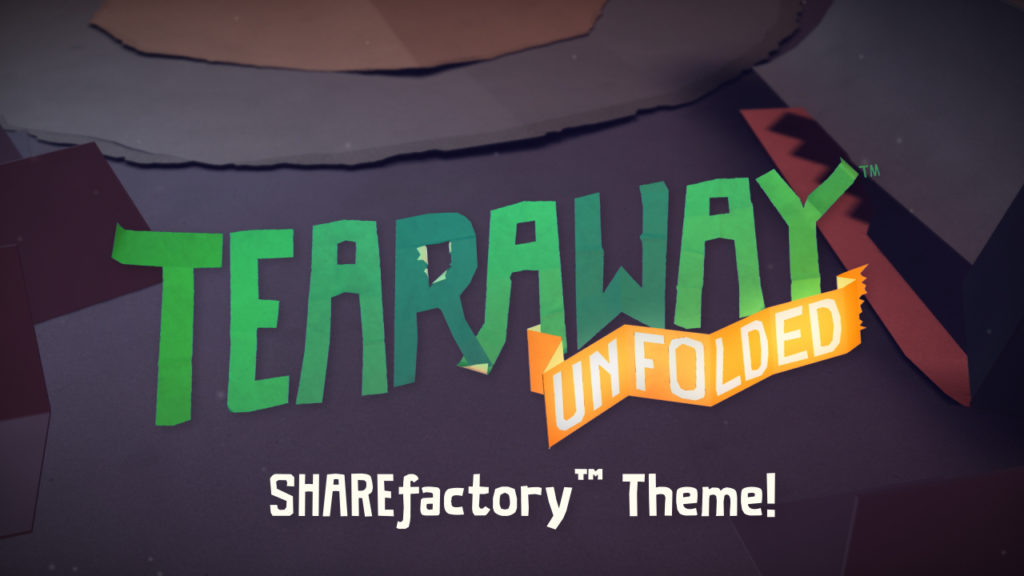 The theme includes:

1 intro.
1 outro.
1 title clip.
3 custom transitions.
9 stickers.
4 fonts.
5 background images.
But what next? Well, to get you started, here are….
MM's TIP TOP TEARAWAY SHAREFACTORY™ TIPS!
1. Don't panic!
New to video editing? Made videos before but never in SHAREfactory™? No idea what you're doing? Chill. If you're using it for the very first time it can seem a little daunting what with its timeline and buttons and flashy bits. Fear not! It's actually really easy to use and have fun with, which you'll find out after about 3 minutes of playing with it. It's fun and powerful!
2. SAVE IT
Seriously. Save your project. Or you'll get halfway through and there will be a power cut and you'll lose all your hard work. That's us speaking from experience.
3. The Power of the YOU
What makes your films different to everyone else? Well, the fact that you made them of course. With your customised messenger and world, you can make a story that is truly unique and "you". That's the best kind of video or film!
4. From Our World, to Yours
Not only have you got titles and intros/outros to use with SHAREfactory™, but with our new Unfolded theme there are some real life stop-motion transitions to help you change scene seamlessly. Don't be afraid to just 'cut' between shots though – that's how films are made!
5. K.I.S.S – Keep It Simple, Squirrel
The best videos and films are ones that have a really simple idea behind it. This doesn't mean they can't be silly or smart or funny or daft – but all those feelings come from a simple idea. "A world made out of paper", for example…!
6. Share your message with the world
Don't forget to share your beautiful creations with us so we can see all the unique stories you've been unfolding (see what I did there?). You can even upload clips directly to YouTube from your PS4!
We're especially looking forward to seeing all the wonderful stories you lovely lot can put together in SHAREfactory™.
Gopher it! (I'm not sorry I did that).
Download the Tearaway Unfolded SHAREfactory theme on the PS Store and start creating your story today!