Molecule Profile: Jen Simpkins
19/09/2023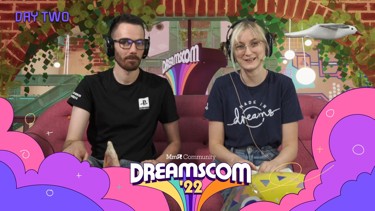 All hail the words witch! That's right, our self-proclaimed sorceress of spell checking is the focus of the first Molecule Profile on our shiny new website. For those not in the know, Jen is the Editorial Manager at Mm, and spends most of her time down in the word mines, extracting blinding nuggets of grammatical gold to splash across your screens. She also digs up far too many pun crystals, but that's another story. On top of writing some of the best articles this side of the Dreamiverse, she's also become a coMmunity favourite, appearing on many of the Mm streams, and working with the community team to design some top notch nonsense for your delight. Want to know more? Then delve into the word mines with us below…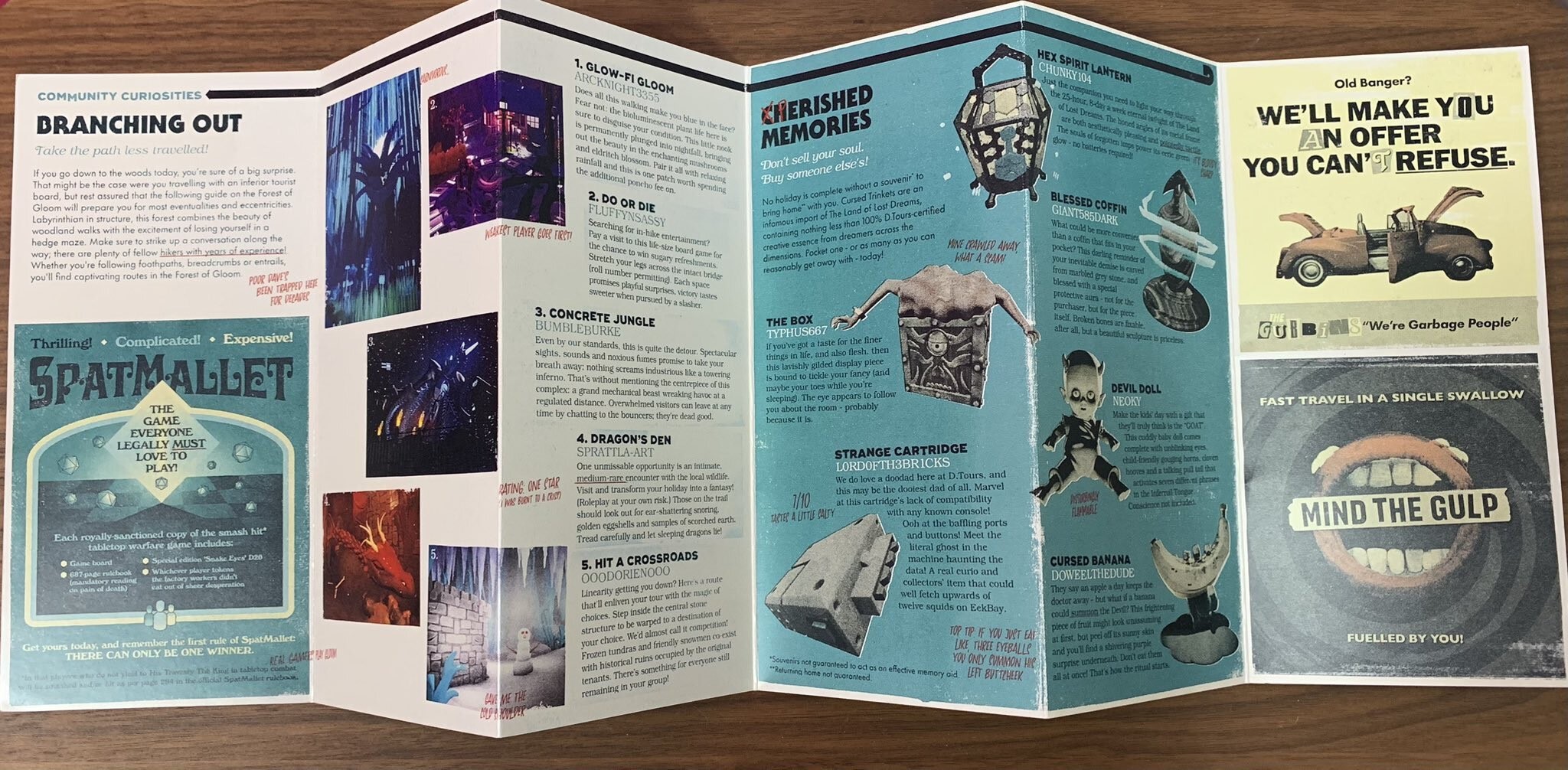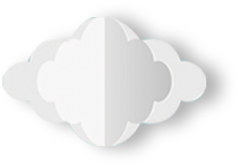 Hi Jen! What do you do here at Media Molecule?
Hi! I'm Jen Simpkins and I'm the Editorial Manager at Media Molecule. But when I first applied to work at Mm, I actually went for a Content Curator role. It felt like a good fit because I was coming from the world of magazines, and curation is basically what you do when you make a magazine: you pick what things go in, and what gets left out whilst maintaining a tone or a point of view. I saw that role and thought, I could do that! At that point they'd just found someone for the role, but the Live Service lead at the time, Abbie Heppe, got back to me and said 'Actually, we think there's this other thing you could possibly do at Mm', which in the interview we decided was setting up an editorial-focused blog on indreams.me, all about what people are creating in Dreams and what the coMmunity is up to.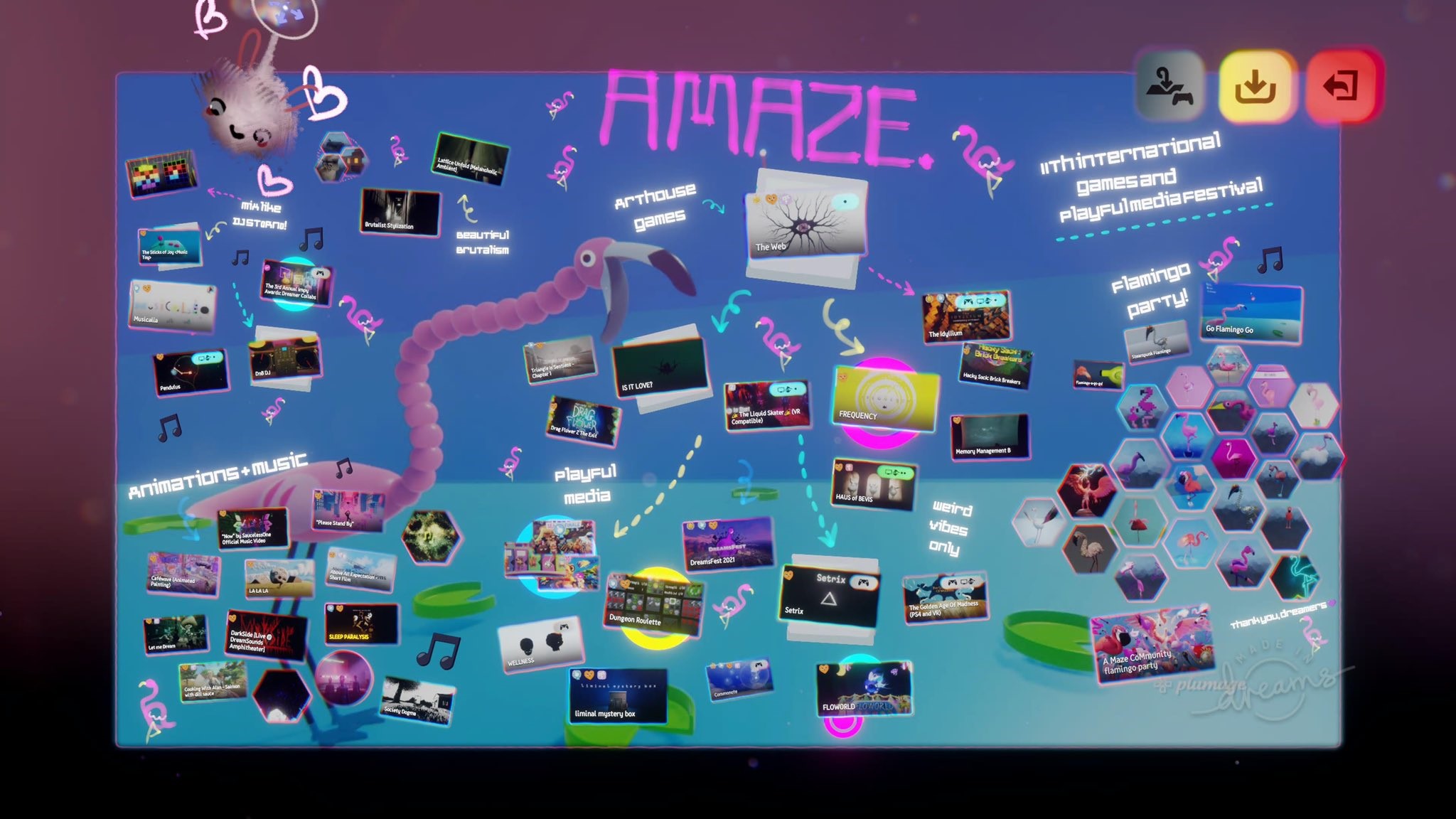 So I ended up getting the job, and created The Impsider where I write articles, interview and chat with creators, and even made entire magazines for some of the live service events in Dreams. Essentially, I ended up helping to build out this editorial and curation team at Mm that really champions creators, which has been such an amazing thing to be part of. In my previous life in games media, I took a similar approach with indie creators, so it felt like a continuation of that work really. I wear a lot of different hats in the role, as long as those hats are related to words in some way. That's the only time you'll find me wearing hats.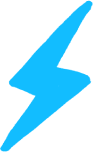 What was it like pitching for your own job?
It was wild. And I'm still flabbergasted that it happened! I came from this world where I'd been really passionate specifically about platforming smaller indie creators using a big magazine to get people in - Edge, which is one of the most well-known gaming magazines out there. I used a lot of my work there to showcase smaller creators as much as possible, because I believe that's where some of the most novel and innovative stuff comes from in the videogame industry. So I was very passionate about putting them in - and sometimes on the cover! - of the magazine, and when we started talking about this in the interview, I realised I could just kinda make a magazine online, and Dreams was perfect as it contained a ready-made indie developer ecosystem. I think that when I first went into the interview, I wasn't entirely sure what I was going to say, but as soon as we started talking about the magazine making process, I immediately thought about having the opportunity to make magazines about Dreams and Dreams creators, and it all went perfectly!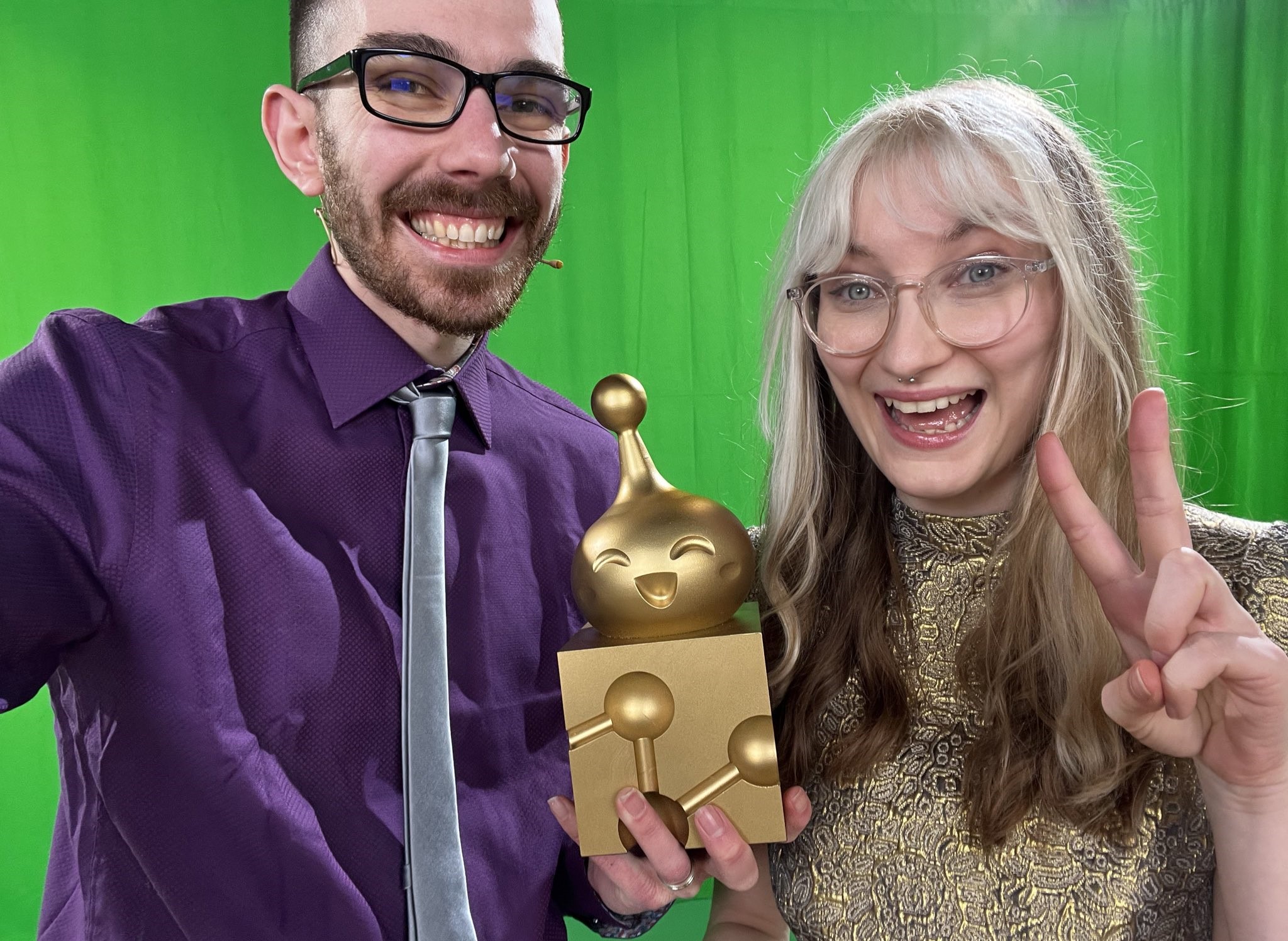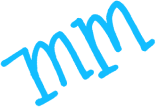 What was it like transitioning from games media into the games industry?
It was an interesting challenge, as a magazine is like a monthly project. You're in this hectic mode where you're putting all the puzzle pieces in: certain ideas for articles can fall through because it turns out a team isn't quite ready to show off their game, so they pull out and then you have to quickly fill it with something else. You're doing this speed jigsaw puzzling. It's a rush, but oh my days, it gave me some grey hairs. So it was really different moving into a situation where actually I'm completely in charge of the schedule now and it was quite freeing.
I think that one of the things I enjoyed most about coming to Mm is that in games media, there are less opportunities for people to champion or promote small or more niche games. Being here at Mm and being part of the studio means that I've had all the time in the world to talk about Dreams and Dreams creators.
But sometimes things felt like they didn't change that much - because obviously I was still playing and writing about a lot of different games and pulling them together in different curated aspects. I do the same thing now, picking out what's special about this nugget of creativity, except now I do it in Dreams.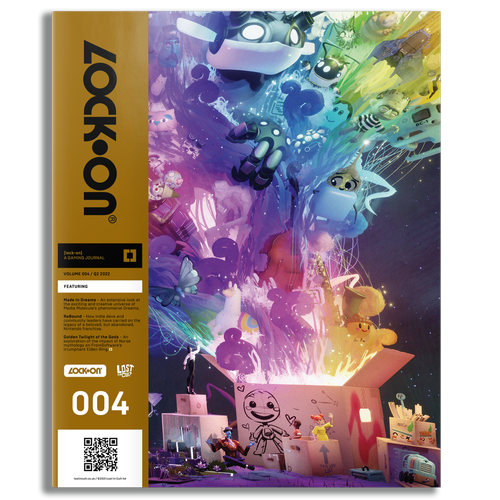 But you do more than just words. You're also involved with some of the community management, and in some ways you've become one of the faces of Mm. How was getting into that?
Conceptually horrifying, actually. I talk about this a lot with friends at Mm, but I never really saw myself as a presenter or a host. I can be extroverted, but I'm definitely more of a natural introvert. I like being behind the scenes and part of the reason for moving away from games media was observing that to be really successful in games media, you had to be quite public or have a public persona. And as I was getting older, becoming the wonderful witch of words, I wasn't sure if I was super comfortable being so public on the Internet. But then I joined Mm and ended up being on the streams anyway, which is really fun.
At first it was tough because I find it quite difficult to speak publicly, but I think seeing how good Tom Dent was at it - and seeing it not be like presenting an award show or presenting a TV programme, and more like talking to creators in real time, was helpful. I thought, actually I can do that. And knowing that streaming is such an important part of Mm's interactions with the coMmunity, maybe it's time to learn and get down with this and face my fears.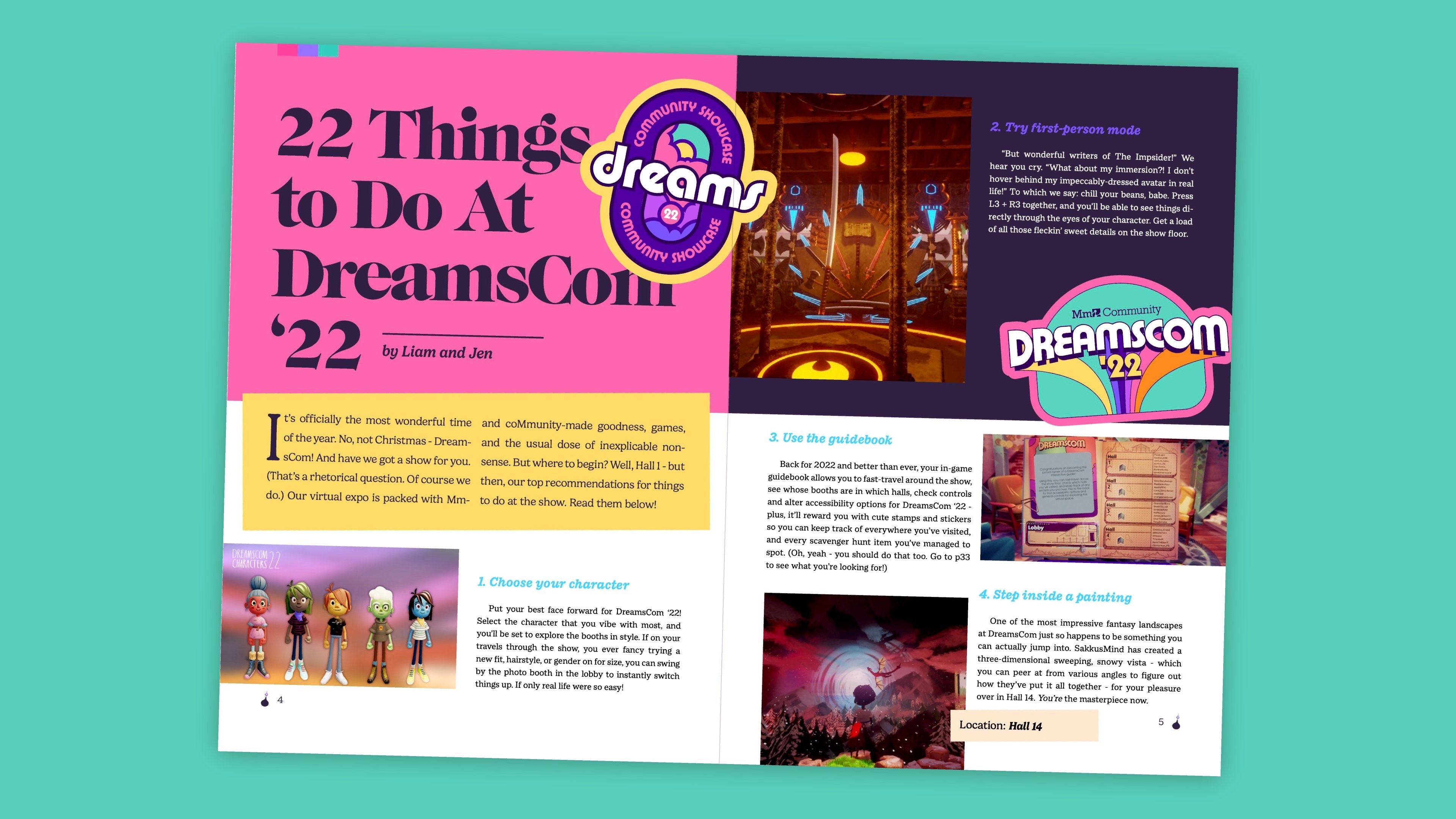 After all of the great things we've done on streams with the coMmunity and for the Dreams live events, I've definitely become more comfortable, but it's still scary. Although it did make me think that maybe I don't have to hide behind the scenes, maybe it's beneficial for people if I come out of my cave once in a while.
And what's it like working so closely with the community team? You always look like you're having a great time together!
Hopefully we all look very cool, calm and collected sometimes because there is a lot of frantic duck feet paddling under the water that nobody really gets to see. You know, we're trying to make sure that everything runs smoothly in general in the background whilst a million other people are doing their work as well. But Tom, Luke and Hollie are all so professional, and so easy-going that they make the whole process much less stressful than it could be!

How did you first get into game journalism, and do you have any tips for anyone that might also be wanting to write about games?
I actually wanted to be a lawyer at first, due to playing this little game called Phoenix Wright: Ace Attorney, when I was like, 14. So then when I was at school and they were asking what do you want to do for your career, I thought I wanted to be a lawyer. It looked dramatic and exciting, and I would get to point at people and yell. And then we had a lawyer actually come in and talk to us about working in law when I was in sixth form and suddenly the reality of it sounded very unappealing. Too much paperwork. But I did still go to uni, and worked out that there were sites like Kotaku where people got paid to write about video games. The realisation that there are people that get to write about videogames for a living the same way I'm at university writing critical essays on books was a revelation.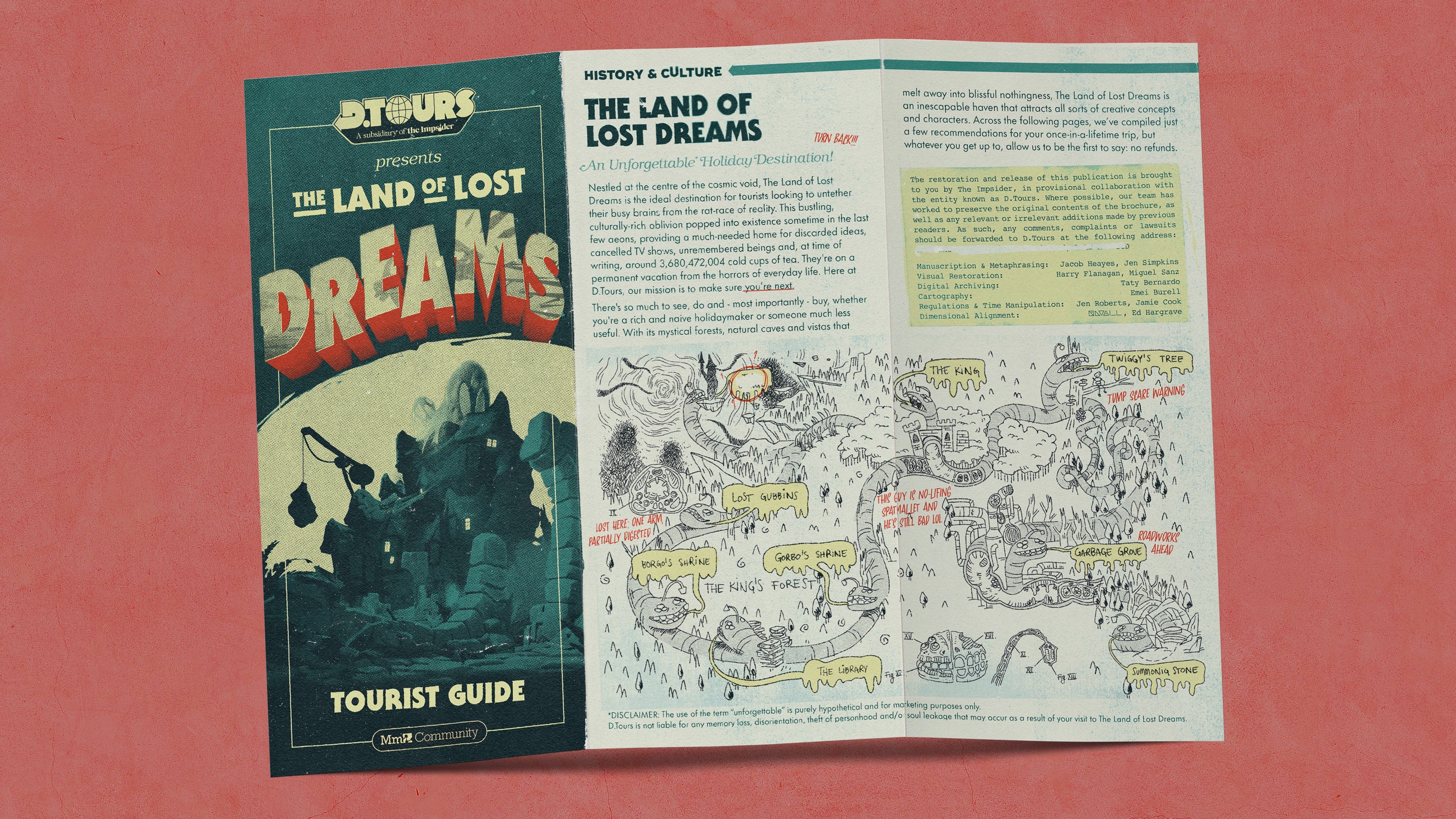 While at uni I met up with a bunch of hobbyist videogame bloggers, and one of them had spotted me running my own WordPress blog, and writing about games on Twitter and was like, 'Hey, come and write for our site!' It was called 16bitkings at the time and it was unpaid and everything was done for the love of it and for practice, basically. That and uni work was really all I had on my CV when I applied for the job at OPM.
And it worked out - partly because I put an acrostic in my cover letter that was like a Bioshock reference. All the letters spelled out "WOULD YOU KINDLY HIRE ME?", as I knew the editor was really into secrets and puzzles at the time. And I walked into the interview and there was just a big highlight down that side of my cover letter, so I knew they'd spotted it.
But I'd say, just do things in your own way. Obviously it's preferable to get paid for your writing, but I think if you're just starting out and you can find other peers on your level who are also trying to break in, maybe starting a hobbyist blog together is a nice fun thing to do. But if you can be a little bit flashy like I was with my cover letter acrostic, or do something that makes you stand out, that can really help in your favour. The reality is that sometimes it's not enough to be talented and a good writer. Sometimes you need a little bit of showmanship or something just to get you on the map at that early stage.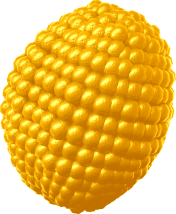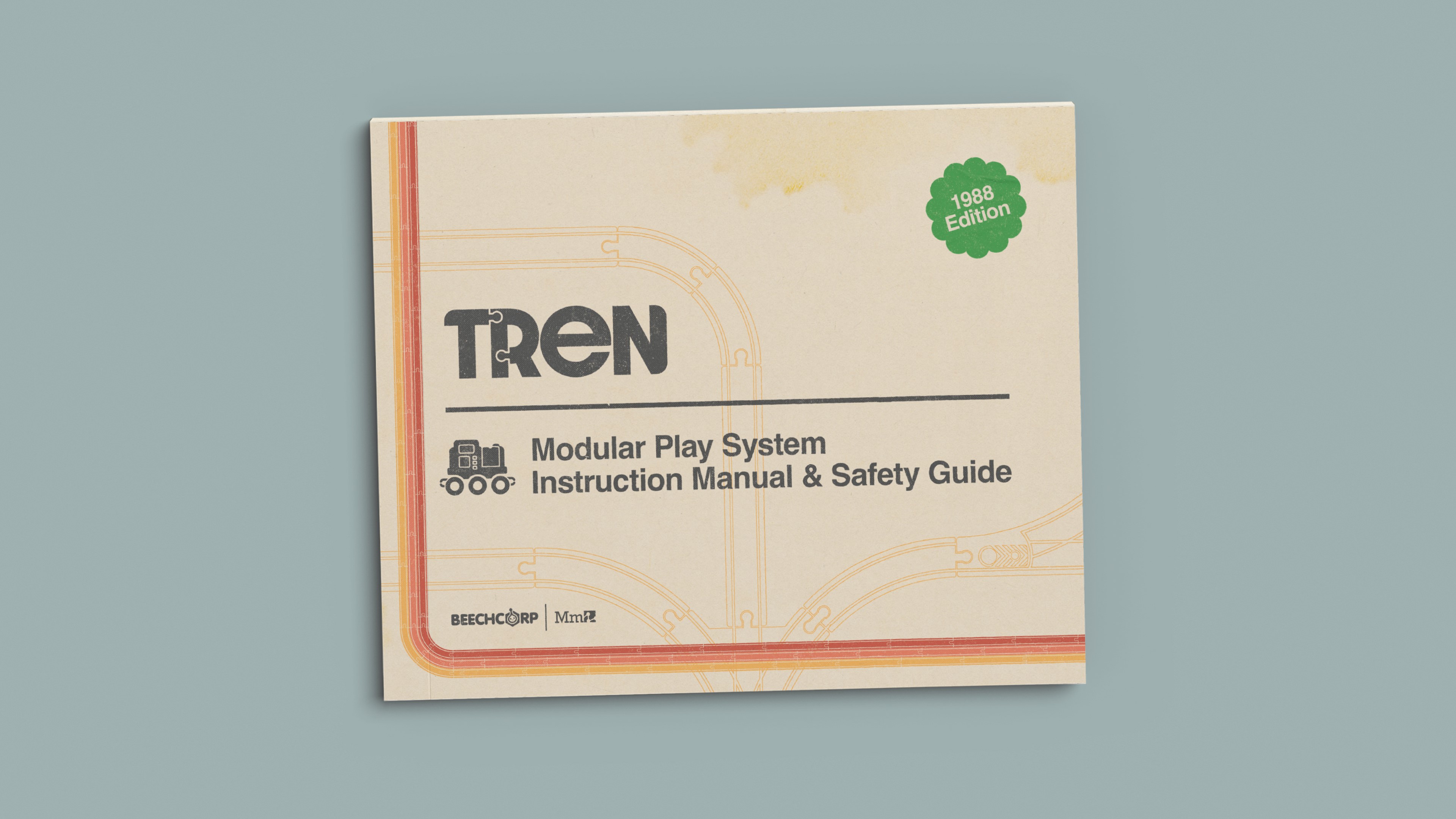 Mm staff seem to have a lot of interesting items on their desks. What's on your desk at the moment?
I've been waiting for this one - I just organised my desk because I'm so excited about it! Me and a bunch of people from Mm just went to the Bandai Namco store in London and spent way too much money on gacha. Anything I can get from gacha or vending machines, I absolutely hoover up. So I have a bunch of characters from gacha machines, like this guy called Revenger, it's like a little pink mini kind of UFO. Then there's this little squid, which is both adorable and holds your pen. As someone who writes, I need a lot of pens. So obviously this is an essential purchase, even though I mostly type.
I also love this mini claw machine game - you can pick up these mini dinosaurs to put in it. There's also a tiny axolotl burger from Cyberdog in London… I could be here forever. Here's a tiny bowl of cereal I made with a little miniatures resin kit. These little miniatures just make me happy. You definitely have to try out the dinosaur claw machine, as it makes me so happy picking up the little dinos and popping them in the hole. And isn't that just what life's all about, really?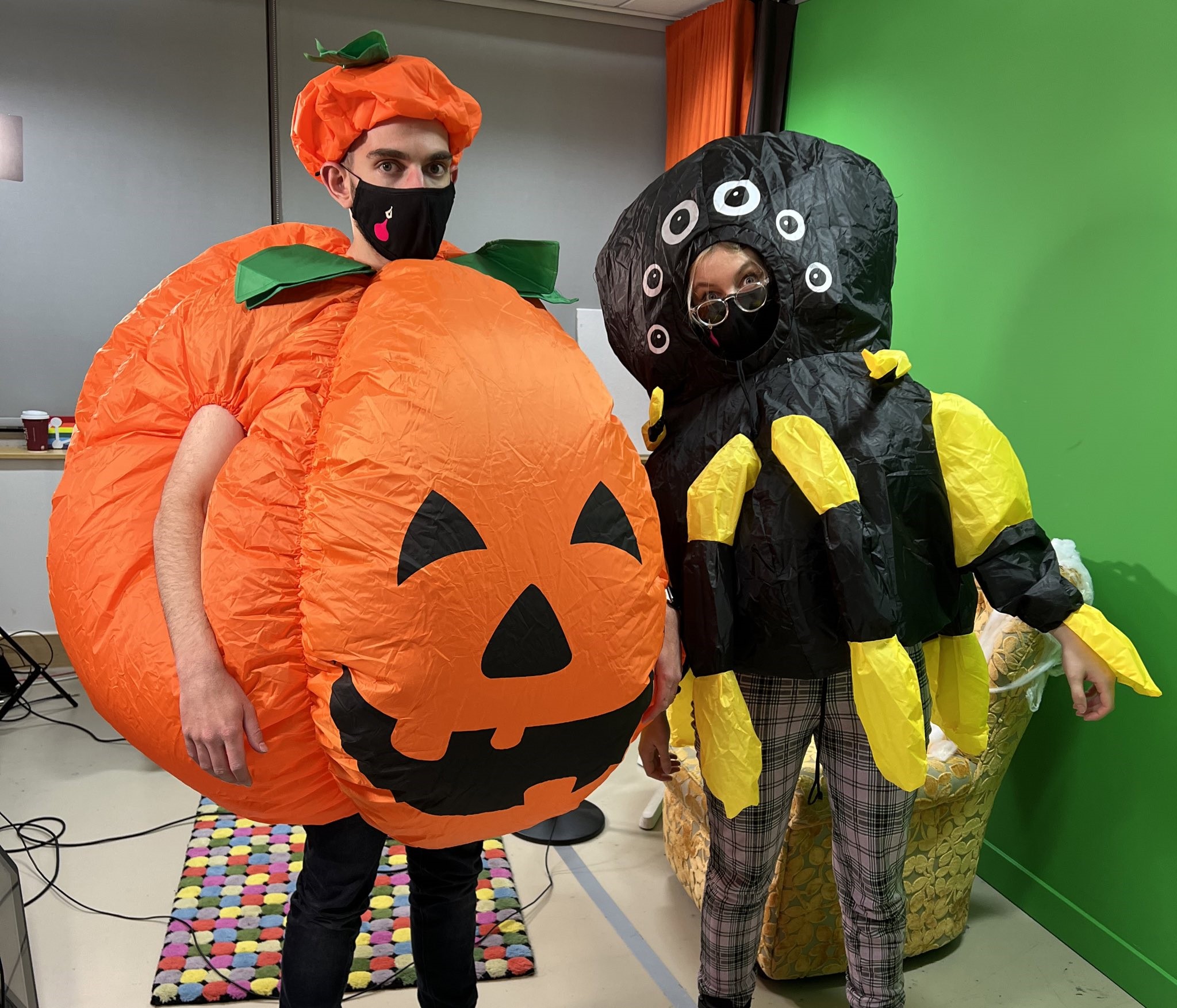 Do you have a personal highlight from your time at Mm?
You know, working on live service and on Dreams honestly has been just a highlight of my entire life. I came here specifically to work on Dreams and I feel like our team and the coMmunity have done some absolutely unforgettable things together, and made so many amazing things happen in people's lives. It's also let me make so many friends out there in the coMmunity, people who I genuinely consider friends.
And you know, obviously you've gotta be careful about parasocial relationships and getting too close to people you haven't actually met - but I feel like we've built real friendships, because we all genuinely want to support each other. The coMmunity wants to support us and the wider Media Molecule team, and whatever we're making and whatever nonsense we're putting on Twitter today - and we really believe in and want to support the art they're making.
Anything to do with the live events that we've done has been incredible, and DreamsCom has always been one of my favourites. It's been amazing to see the coMmunity continue that on for themselves, as they made their own DreamsCom this year. When I tried it out I honestly started weeping. It was so good that it felt like an Mm quality experience, and a little platform to espouse the virtues and the talents of the awesome indie developers in the community. That whole event in particular is super close to my heart. We worked so hard on that with the streams, and the interviews on the streams, and then also making magazines for the event.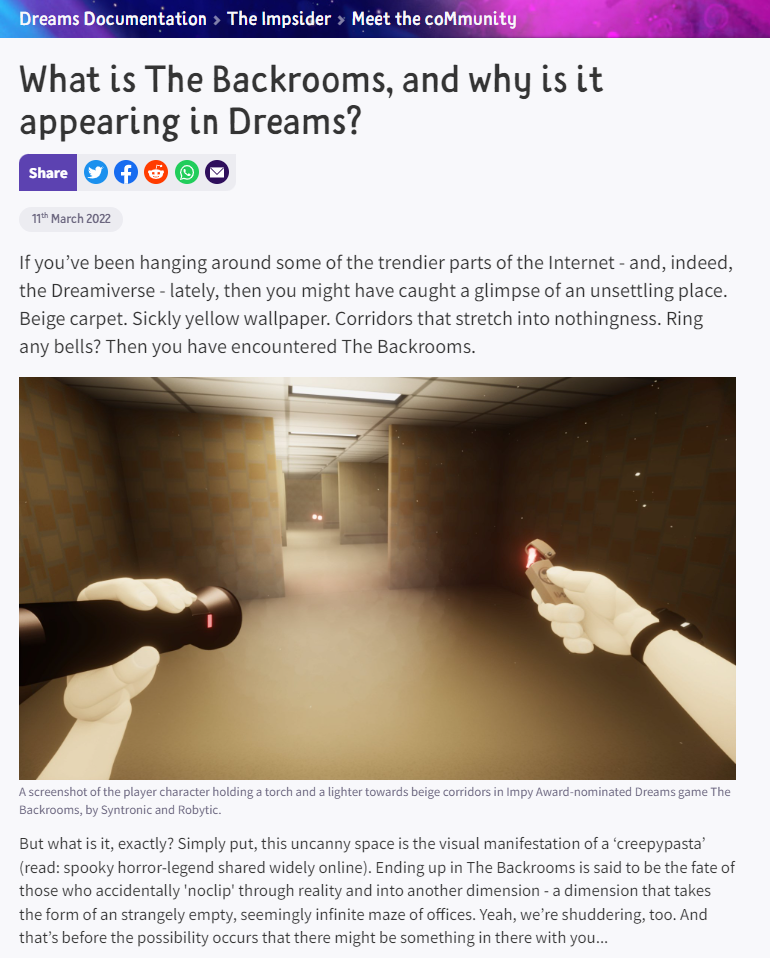 That's a whole other highlight, which is just the fact that I managed to get my print-addled brain to produce a bunch of publications that celebrate the community with amazing people like Liam and Jacob and Harry and Miguel - you know, putting out actual little magazines. Keeping that part of my life and my passion alive is something I felt was really worthwhile, and it was so special being given the space to do that and to see the Dreams community and beyond really resonate with it too. And even print it out themselves!
I also have to shout out working with the curation team. Obviously I came in as editorial and it was kind of curation-adjacent - but between me and Jacob and Ally, we've now built this proper, super-successful editorial-and-curation molecule that I'm so proud of.